On a natural platform, upon a world of crags above Lake Ohrid – or the White Lake as it was befittingly called in the middle ages – the church dedicated to the evangelist St. John the theologian stands on the most beautiful of the town's spots, known today as Kaneo. Built in the form of a cross inscribed in a rectangle, it has a single dome with a peculiar roof cornice that rather than being flat or undulating, as would be usual, makes angled tympanums, which is a unique example in the broader area of the central Balkans. The earliest fresco-paintings, dated to around 1290, have been preserved in the apse of the dome, while the naos contains fragments of the Passion scenes.
In line with the traditional programmatic arrangements, the altar space contains depictions of the Liturgical scenes and the Adoration of the Lamb, while between them there are portraits of the busts of selected church fathers. Several portraits of saints from the church calendar of the Ohrid Archbishopric are particularly memorable and significant: St. Clement of Ohrid, St. Erasmus of Lychnidos and St. Constantine Cabasilas. If compared to other 13th century monuments, the image of St. Clement of Ohrid, with its semiotics that is emblematic of the Ohrid Cathedra, contains the first physiognomic features of its typology that became standardised only later.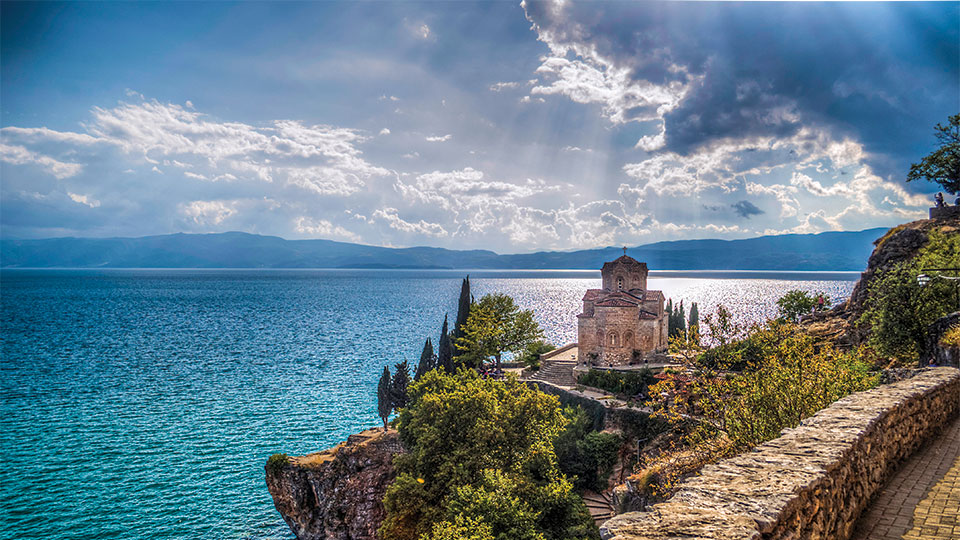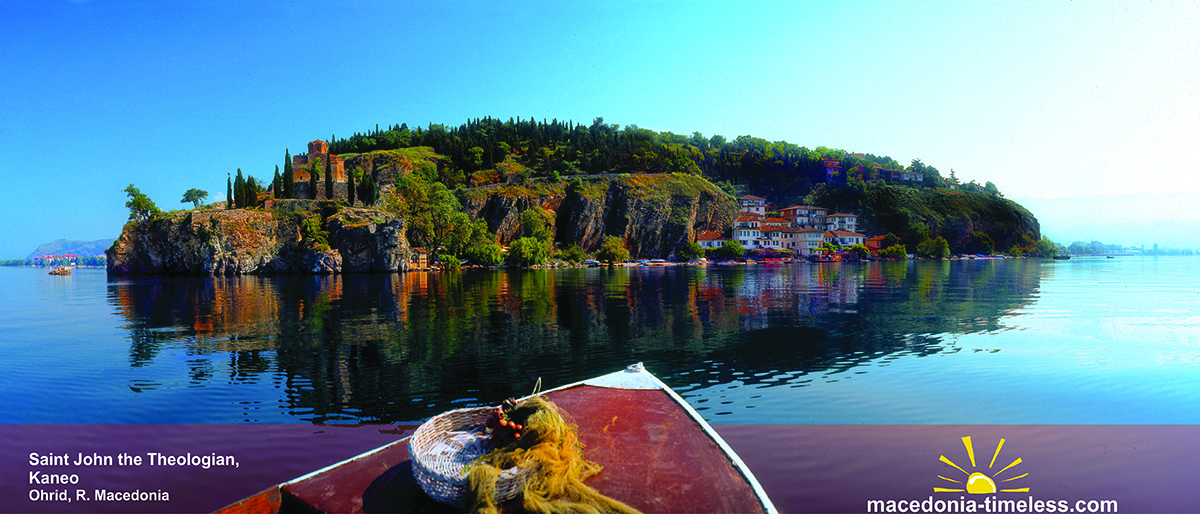 St.Erasmus of Lychnidos (+303), an antiochian bishop who apostolic deeds involved preaching Christianity and Christianising people from Lebanon through Macedonia all the way to France and Italy, is the symbol of the Christianisation in pre-Slavic Lychnidos (Ohrid). Deliberately placed beside each other, St.Clement of Ohrid and St. Erasmus of Ohrid embody the message of the uninterrupted low of the apostolic succession, before and after the arrival of the Slavs in Macedonia. It was in this church that St. Constantine Cabasilas, the Ohrid archbishop from the 1260s, got his first portrait. It is located in the apse and depicts him in the procession of high priests in the Adoration of Christ the Lamb.
This learned Byzantine cherished the traditions of St. Clement of Ohrid and St. Naum of Ohrid, as well as the tradition of the Fifteen Martyrs of Tiveriopolis (Strumica), and contributed to them with his own literary works. Through Cabasilas's portrait, the painter immortalised his reverence for those very contributions. The wooden iconostasis was installed in the 19th century and it was also then that the damaged portions of the old frescoes were repainted. The dome was redecorated, as well as the concha of the apse with the dominant and solemn figure of the Mother of God Platitera with Christ, placed in her bosom as a sign. In 1844, the eminent and exceptionally productive fresco-painter Dicho made for this temple the valuable icon of the Mother of God Pantochora, which added to the pace's atmosphere of a spiritual chamber.