The middle-course Vardar region
Covers the central part of the Republic of Macedonia. It covers parts of the valleys of the rivers vardar and crna with the confluence of the rivers Babun, Topolka, Boshava and Doshnica.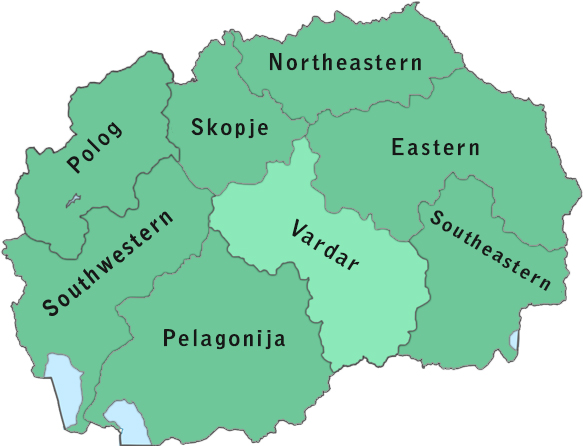 Mountains
Larger number of mountain massifs are typical for the Central Vardar Region. There are the massif Mokra Mountain with the arms Goleshnica and Jakupica, as well as the mountains Babuna and Dren to the west, Kozhuf to the south, Konechka and Gradishtanska to the east. There are some lower mountains in the central region, such as Mountain Klepa and Highland Vitachevo. The areas Azot around the valley of the River Babuna, Tikvesh around the valley of the River Vardar, the Field of Rosoman in the lower course of the River Crna and the Field of Negotino are particularly important unities.
Ravines and caves
There are several interesting ravines in this region, such as Taor and Veles along the River Vardar, one part of Skochivir on the River Crna, Raec and the ravines of the Rivers Babuna and Topolka , prior to the inflow into Vardar. There are several caves in this region, such as: Ponor, Markoec and Markova Crkva in the ravine Peshti on Babuna, Bela Voda in the Ravine of Demir Kapija and some others. Volcanic relief is noticeable on Kozhuf, where is situated the locality Alshar. The relief spreads from approximately 150 to 2.540 meters on the peak Solunska Glava.
Climate
Climate is characterized by particular Mediterranean influence. The average annual air temperature is 13,8°C. The average annual precipitation is 500 mm therefore this region is considered as one of the hottest and driest in the Republic of Macedonia. Rivers and sources. There are more hydrograph objects in this region. One of more eminent sources is the source of Babuna. There is a greater number of larger rivers which flow into Vardar, such as the River Crna, Raec, Bregalnica, Babuna, Toplka, Boshava, Doshnica, Luda Mara and the River Majdanska. Tikvesh Lake and the lake Lisiche are located In this region.
Flora and fauna
There is abundance of herbaceous and ligneous species. This is particularly pro-nounced on the mountains Kozhuf and Mokra. Because of this the Natural Sanctuary Meshnik is situated in this region. There is abundance and variety of wild life, such as bears, wolves, deer, wild goats, boars, hares, partridges and particularly eminent are eagles in this region.
Traffic connection
Referring to traffic connection, this region is connected along the valley of the River Vardar towards Skopje to the north and towards Gevgelija and Greece to the south. One branch of this road at Gradsko leads towards Prilep and Bitola to the west and another branch leads towards Shtip to the east. There is a railway connection along the valley of Vardar from Veles towards Gevgelija, Bitola and Shtip.
Biggest cities from this region: