Dojran
Dojran is city located on the western shore of Dojran Lake in the south-eastern part of the Republic of Macedonia. Today, it is collective name for two villages that exist on the territory of the ruined city: New Dojran and Old Dojran, which contains both old ruins construction, especially hotels, resorts and restaurants. Dojran is popular place for a very old style of fishing. Local fishermen use birds (cormorants) to drive the fish into fenced areas around the fishing huts in the water.
Sheepfold
Lake Dojran I s famous for its specific way of fishing with help of the birds. It is an ancient method of fishing, unique in the world. The fisherman catch the birds cormorants and truncate their wings in order to disable them flying. The cormorants force fish to hide among lake reed. Fisherman in special fisherman's hunts so called sheepfolds wait them an fish then into nets.
Lake Dojran, the smallest and the warmest of the three tectonic lakes in Macedonia
The lake is located in the south – eastern part of Macedonia. Due to heat and rare way of fishing, Lake Dojran is visited tourists area in Macedonia. The lake covers an area of 43.1km2, and the biggest part belongs to Macedonia, whereas the rest is in Greece.
The level of the lake is at an altitude of 148meters. Lake's maximum depth is 10 meters, and the average depth is 6, 7 meters. There is accumulated 28 million m3 water. Shoreline is low, simple and there is not marked presence of more characteristic abrasive forms. The lake is fed by water from Golema and Surkovska Reka and Sources of Toplec as well as special hydro system for filling from groundwater sources of Gjavachko Field.
The average annual temperature of surface water is around 15C and the maximum summer temperature is up to 25C. This is due to Mediterranean closeness and the low altitude. The short depth provides transparency of water from 1 to 3.6 meters.
Lake Dojran is eutrophic. It is rich in phyto and zooplanktons. The blue green algae (Cyanophycea) has dominant presence of the phytoplanktons. The zooplankton is presented by 23 kinds of shrimps and a large number od clams. Due to the high production of planktons, Lake Dojran is rich in fish (approximately 15 species). 12 endemic species of fauna are registered in Lake Dojran. One out of 15 species of dish is a local endemism.
Old Dojran
There are three settlements on the shore of Lake Dojran ( Macedonian part): Nov Dojran, Star Dojran and Nikolikj, where 4000 inhabitants live. Star Dojran is situated on the western shore of Lake Dojran, at 142 – 210 meters altitude. It covers an area of 9km2. Star Dojran was well developed town before the First World War, where 18 000 inhabitants lived, but it was destroyed after the war. Nowadays, this settlement has a tourist – recreational function and there is large number of holiday houses. There are around 4000 hotels and hostels, several modern casinos and over 600 holiday houses along Dojran shoreline.
Things to visit in Dojran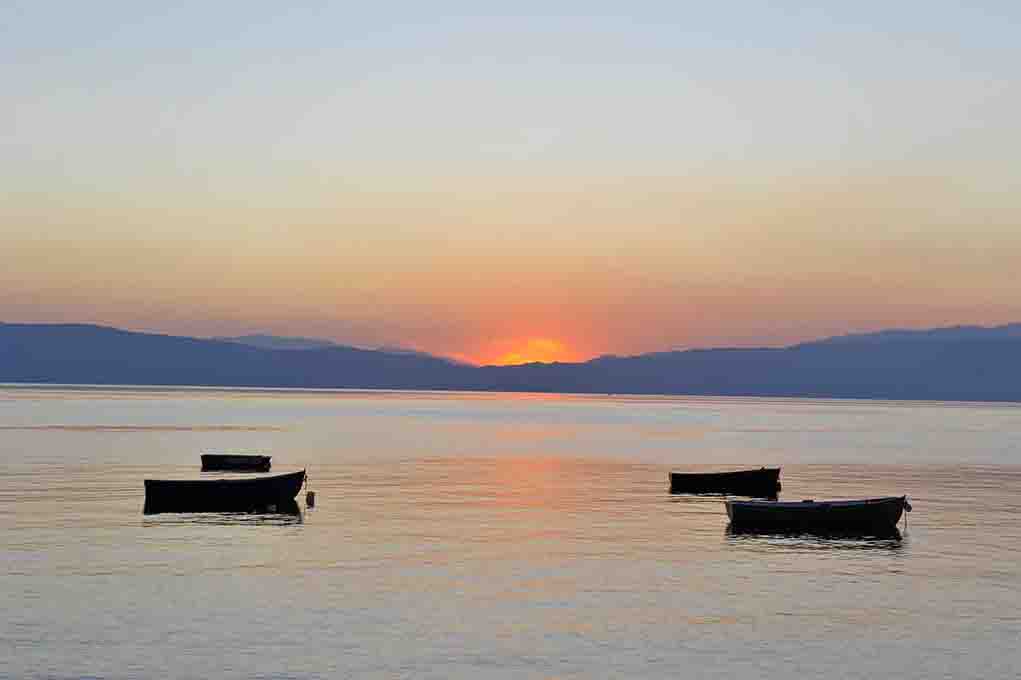 Dojran Lake and Beach,
Church St Ilija,
The Amam Turkish bath,
Monestary andChurch of St Marija Magdalena.
Things to do in Dojran
Swimming,
Fishing,
Gambling,
Eating fresh fish,
Watch the fisherman at work,
Sports and recreation center,
Hunting.