Ohrid
Ohrid is the sublime lakeside point that for many represents the culmination of the Macedonian experience, a kingdom of light and water, a repository of ancient ruins from Macedonia's earlier kingdoms. Ohrid's major attractions are all located within a remarkably concentrated and eminently walkable area, among and above the narrow streets of the Old Town lined with restaurants and cafés perfectly suited for relaxing in the cool summer evenings. Ohrid's many café bars and nightclubs also make for a vibrant nightlife. As for the lake itself, it is so large and so deep that one might mistake it for a small sea. Full range of water sports, fishing andboating is available, and numerous churches alongside Ohrid's lake shores make for fascinating side trips and walks. The wooded ridge above the lake's eastern shoreis largely taken up by the National Park of Galichica, an unspoiled wilderness ideally suitable for nature enthusiasts. The uniqueness of Lake Ohrid and the city's historical architecture has been attested by UNESCO, honoring it with an official designation as one of the few places on the cultural institution's list "World Inheritance".
Most popular beaches in Ohrid
Gorica is only four kilometres away from Ohrid and according to many people it is the most attractive location of lake Ohrid, which can offer you optimal privacy and comfort. The whole surrounding makes you feel calm, the beach is surrounded by high rocks and the location of the hotel complex gives an ideal view to the whole beach region. A five star hotel satisfies posh tastes of all tourists, especially to the most picky ones.



Slavija is only four kilometres away from Ohrid in the locality Saint Stefan and it has two objects "Orce Nikolov" and "Slavija". The hotel "Slavija" is a high B-category, it has a bar, souvenir shop, its own beach, parking space and most of the rooms have a lake view. This is one of the most frequent Ohrid beaches, always tidy and clean. The biggest attraction is a 75 metres toboggan, and there are the popular pedal boats.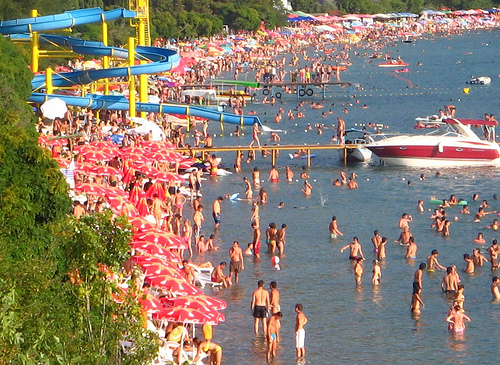 Metropol and Belvi are only eight kilometres away from Ohrid, only a hundred metres from the lake. Both hotels are well-known for modern equipped rooms with views to the lake. They have sports terrains, bowling room, conference and meeting hall, sauna, heliotherapy, casino and fitness centre.



Lagadin, ranging 285 m from the river Suvodolica to the hotel "Dva Bisera" is the longest beach of Lake Ohrid. The special attraction is the platform where you have to book in advance. During the day there are organised various parties with snow-foam, rain and balloons in one part of the beach. There is a special park place on the beach for the guest's scooters and speedboats. The other part of the beach is mainly for relaxation, drink, chatting, classical atmosphere without parties.



Eleshec is a car-camp, 10 km from Ohrid. There are 700 beds in bungalows and trailers. You can stay in your own trailers and tents. There is a supermarket in the camp.


Peshtani is on the shore itself, it is 10 km from Ohrid. It is the biggest settlement in the beach region, surrounded by virgin nature. There are seven churches in this area. The most important is the cave church dedicated to St. Mary, erected nearby the village in the rocks on the eastern shore. The church impresses with its painting, which has features of Ohrid Painting School from XIV century.
A newly opened museum on water is only few minutes away from Peshtani. This museum has a reconstructed part of a pre-historic settlement from XII to VII century B.C., which is set on a platform supported by wooden pillars. Settlement's remains found in the water are exhibited, diving base and reconstructed fortresses of Roman Camp from II century.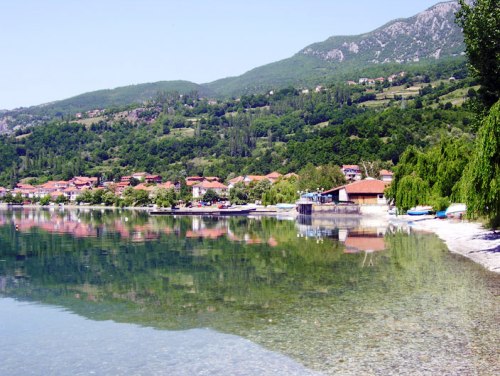 There are lots of restaurants where can be tasted extraordinary national dishes and fish prepared in a traditional-local way, therefore you can enjoy chefs specialities combined with high quality home wines. Numerous cafe-bars make richer and more interesting night life till late hours.




Gradishte covers several beaches, which offer day and night parties. The most interesting is the black apartment located on the highest point of the beach, and there are day parties having romantic, Brazilian, Latino and chill-out music, as well as DJ parties with ethno music, psycho down and Trans on the beach itself. You can hear jazz music too, there are organized promotions of home and foreign musicians, and there is even a bookshop on the beach. During the day there are organised competitions, rock climbing and other types of parties. The beach is made by European standards. If somebody stays here all day long, there is no reason to miss the night party.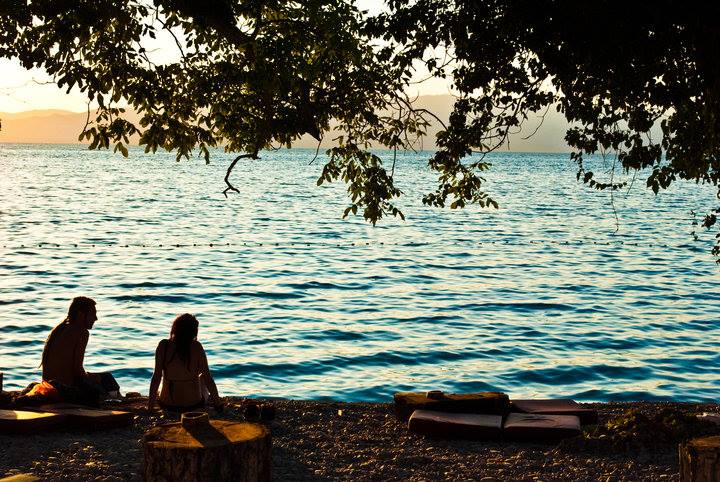 Ljubanishta is a car-camp 30 km from Ohrid, right below the village with the same name, covering about 10 hectares. It has 100 permanent camp-trailers with 400 beds, and a location for 200 campers. The camp has a restaurant, supermarket, grill shop, shop and its own sand beach covering 1500 metres. Ljubanishte is the last Macedonian village next to Albanian border. There are the complex of St. Naum and Crni Drim Spring two kilometres from here, which have great historical, cultural and tourist's value for the whole country.



Trpejca is special and beautiful because of lots of small sand beaches which can be reached only by boat. Trpejca is a real paradise for tourists, ranging between Lake Ohrid and Galichica, having white pearl beaches and crystal clear water it has developed into an elite tourist centre. It is about 12 km from Ohrid in the heart of the National Park Galichica. The village is ten centuries old, and according to one of the legends it got its name by "trpeza-table", because a lot of pilgrims heading to the monastery St. Naum set a table, honouring the monks who lived ascetically.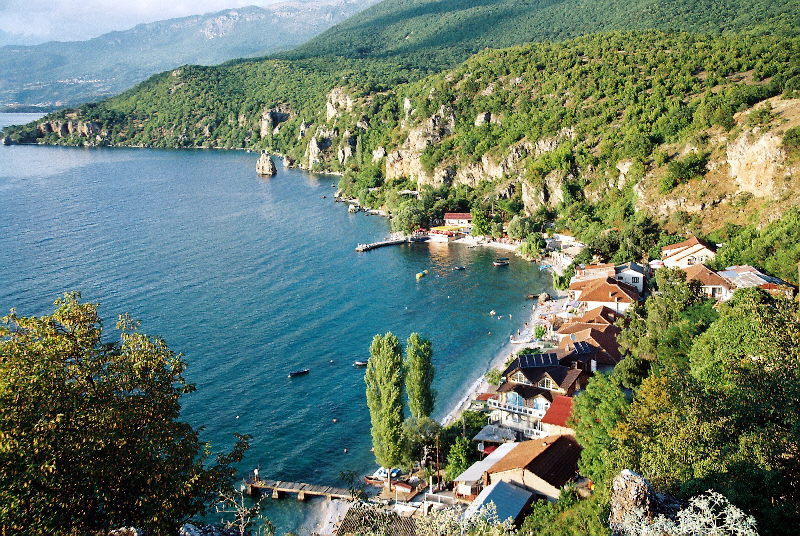 "NO OTHER AS STRUGA"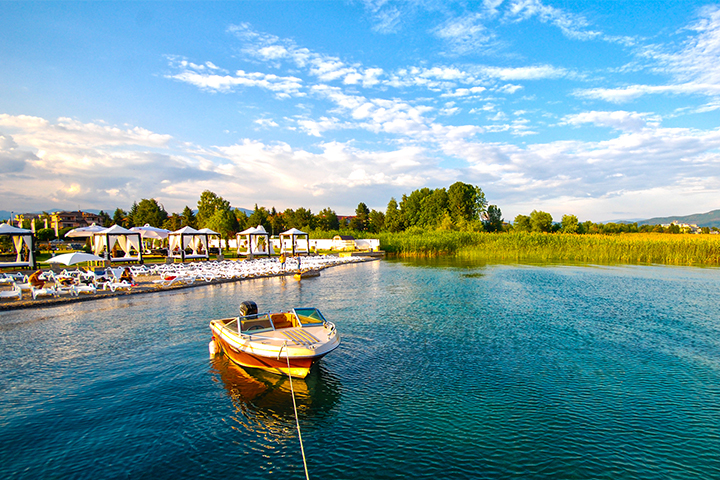 Struga has a favorable location. It is located in the southwest part of Republic Macedonia, on the north shore of Lake Ohrid and along both banks of the river Crn Drim. It lies along the ancient road Via Egnatia.
This settlement was mentioned as Struga at the beginning of the 11th century.
Prespa Lake
Prespa region is characterized by many sunny days and on the coast of Prespa Lake there are several beautiful sand beaches. Here you are surrounded with mountains lush with rich vegetation. The mountains combined with the clear lake will move you, continuously inviting you to swim and relax.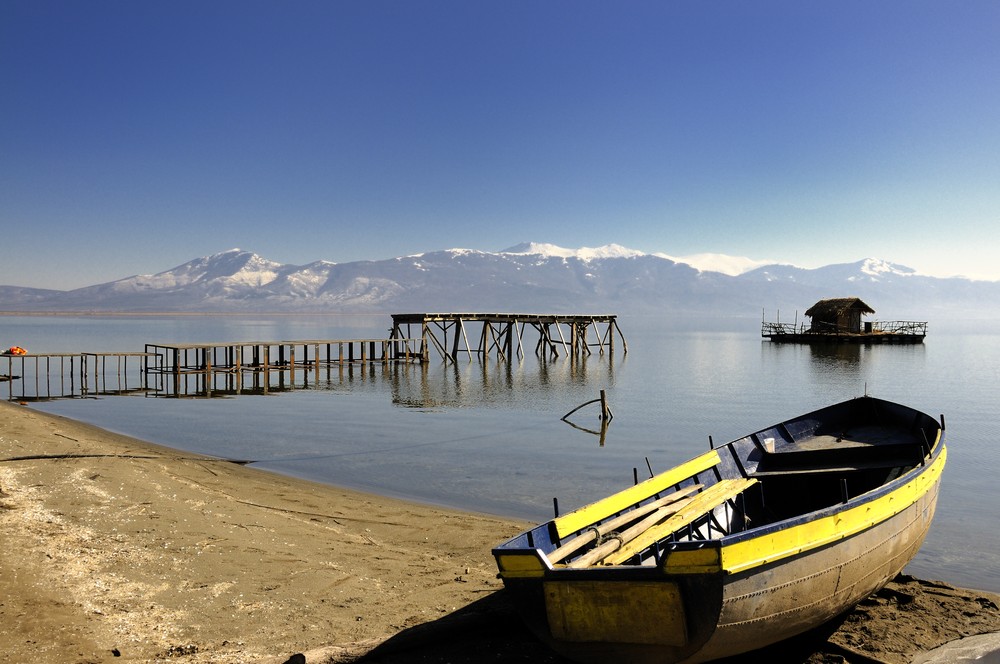 Dojran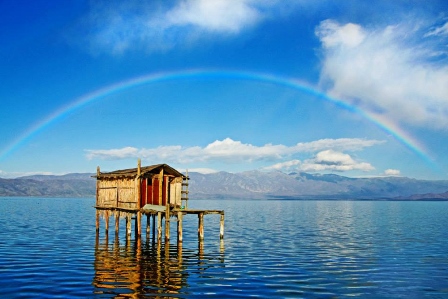 Dojran lake covers an area of ​​43.1 km2 of which 27.3 km2 belong to Macedonia and 15.8 km2 Greece. It is the smallest of the valley lakes in Macedonia, with a maximum depth of 10 meters. This is the warmest lake. Water temperatures are influenced by the proximity of the Aegean Sea. Dojran water temperature reaches up to 27 C, and there is transparency from 1 to 3.6 m. Water in the lake comes from underground springs and rivers: Golema River, Toplec etc.. The lake flows through the river Golaja, which is located on the Greek territory.