Kapan-an
The former caravan-saray and Konak Kapan-an is housed inside the Old Skopje Bazaar in Skopje. Kapan-an was built in the second half of the fifteenth century, on the orders of the third Ottoman governor Isa-bey. It is mentioned for the first time in the vakufnama of the Yaya-Pasha Mosque in 1506. Throughout history it played a major role in the development of traffic trade. Kapan-an was a place where travelers from faraway places had an overnight stay.
The an was destroyed by the earthquake in 1555, and then in the 1689 fire, after which it was reconstructed in a much simpler way, with a wooden construction, and from its original appearance only its lower parts are preserved, as the an operated until World War II. In the 1963 earthquake, the building was almost completely destroyed, and was restored and re-put into operation in 1974. Today, it houses stores, restaurants and business offices.
The facility represents a rectangular building with an area of 1,066 m2. Externally it is completely closed and contains a large square yard in the interior. There are a total of 44 rooms, which served to accommodate passengers and traders with their caravans. The rooms were arranged in a row and distributed on the ground floor and the floor, on all four sides. On the floor there is a wooden porch on all four sides, on the wooden pillars of which the roof is raised. There are two entrances to the an, on the south and north sides, entered into through wooden doors. The part of the bazaar around the an was called Kapan Bazaar, and infront of the an there was a fountain called Kapan fountain. The name of the an was derived from the Arabic word "kapan" (Arabic: kabban), referring to the great public cantar, which was located in or outside its gates and served to measure the goods.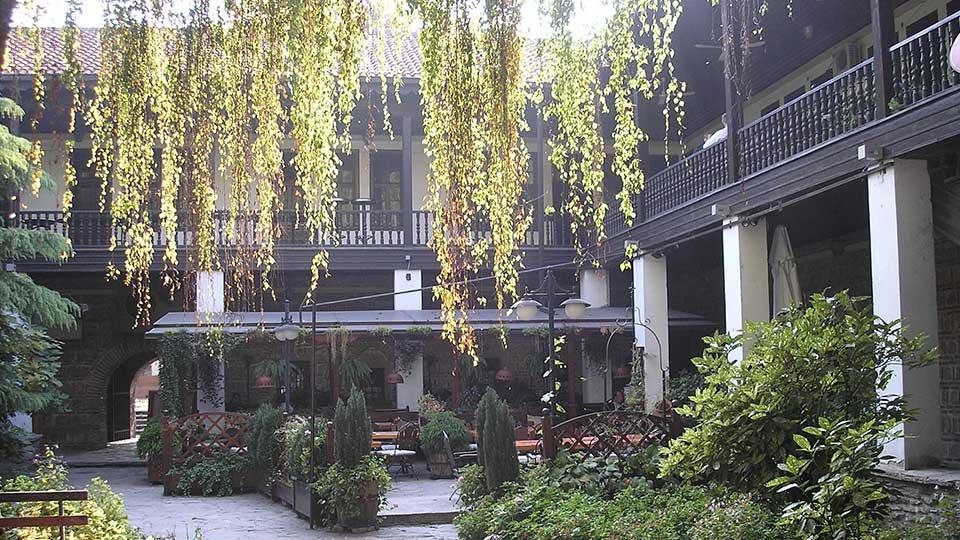 More information about Kapan-an can be found on this website.
---