Location of Daut Pasha amam
Daut Pasha amam is located at the beginning of the bazaar, in the immediate vicinity of the church "St. Dimitrija". It was built in the period from 1489 to 1497, as a testament to the Vizier of Rumelia Daut Pasha, but the names of its architects are still unknown. Daut Pasha Amam was badly damaged in the 1689 fire and was left to a gradual collapse. It was restored in 1948, when it was converted into an art gallery.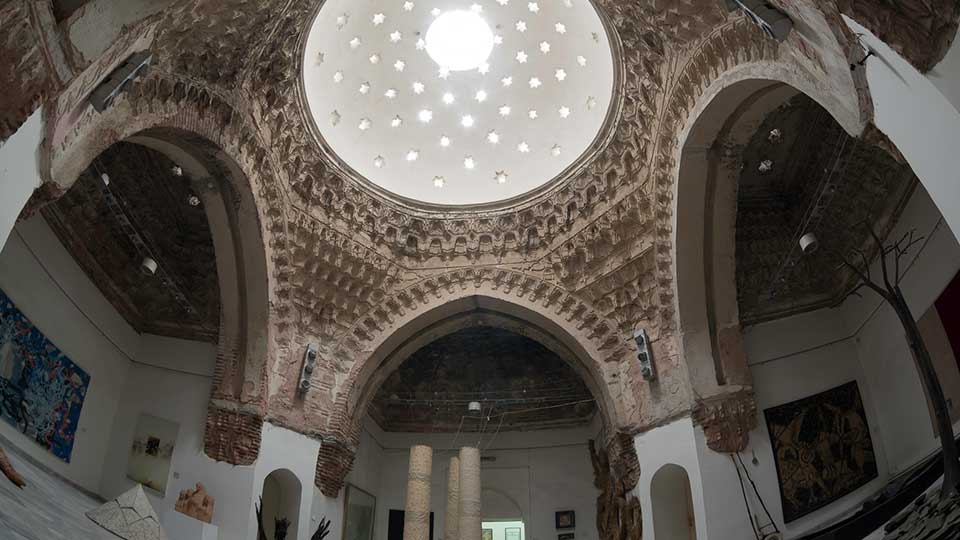 It also suffered a damage in the earthquake in 1963, but was soon renovated and has since been functioning again as an art gallery. Today it is the only remaining building of the former "Islamic Three", which comprised the Ibni Pajko mosque and the Karavan-serraglio. The facility has a rectangular shape, with small insignificant extensions on its south and north sides.
Architecture of Daut Pasha amam
Its architecture is monumental, and the construction was performed with refinement. The walls of the building are massive and contain small openings with arched and vaulted fields, in which the windows and doors are placed. The entrance doors are on walls made with profiled plates. On the west side of the façade of the amam there is an opening, which is framed in a profiled marble frame containing a plaque with an inscription. The interior is covered with 13 domes of different sizes. Of these, the two largest ones are on the west side, while the other 11 are asymmetrically distributed over the other part of the amam.
There are 15 rooms in the building, which are illuminated with the help of the stellar openings of the domes covered with glass. On the inner side, the walls were decorated with picturesque ornaments. Because it represented a double (chifte) amam, it had two separate entrances, one for men and one for women. In accordance with the Islamic canons thus divided entrances were not on the same side. According to the findings, Daut Pasha Amam was never put into use as an amam, wherefore there are two legends.
According to one, the heating of the amam required large quantities of firewood. It could not be provided, because the forest on the Vodno mountain was almost destroyed, so the lack of firewood prevented the commissioning of the facility. The second legend is tied to the daughter of Daut Pasha. According to this legend, before it was put into service, his daughter visited the amam and was bitten by a poisonous snake and then died. Then Daut Pasha ordered the amam to be closed and never used again.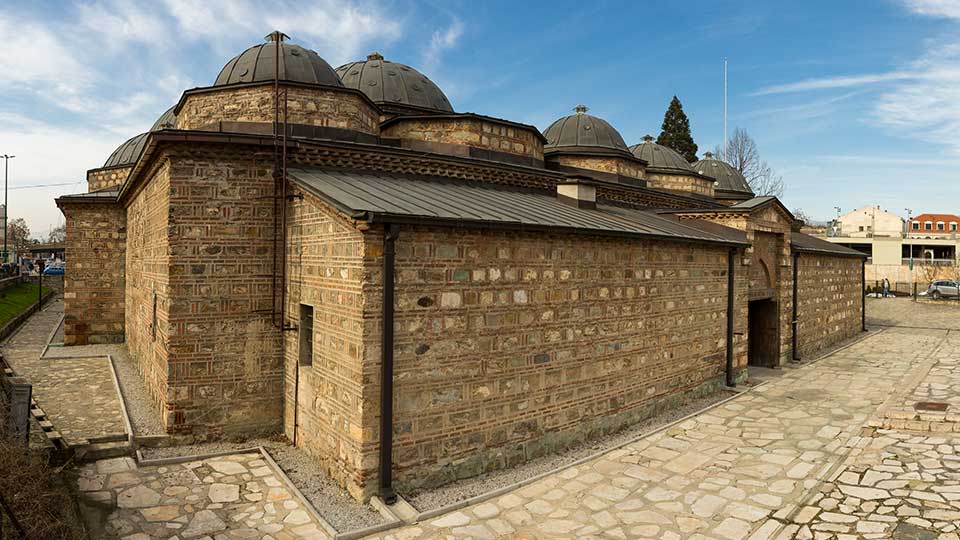 More information about Daut Pasha amam can be found on this website.
---