Stobi
Stobi is undoubtedly the most attractive, most impressive, and most famous ancient city in the territory of Macedonia. Situated in the heart of our country, this site is a must-see for anyone who wants to experience an archeological adventure, appreciate the cultural benefits of the ancient world, and enjoy the view of beautiful nature.
The numerous unearthed monuments, which are uniquely beautiful, are silent witnesses to life in the prehistoric and Hellenistic periods, and the objects and buildings are a proof that Stobi was an important urban, military, administrative, trade, and religious centre of the Roman and early Byzantine Empires.
Because of its geographical position, throughout the centuries Stobi was a crossroads of the ancient world and here we find many cultural influences from South and North alike.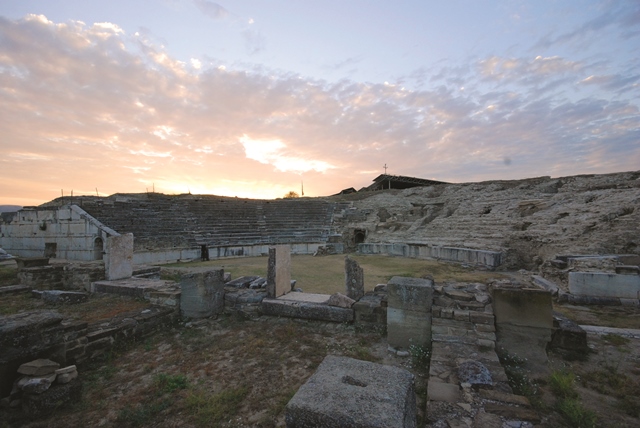 In Roman times, Stobi became the capital of the province of Macedonia Secunda, and it had its own mint. Later it became an important Christian centre and the main seat of an Episcopy.
The Episcopal basilica, the Antique theatre, the Palace of Theodosius, the House of Policharmus, the great bath, and many other relics of rich historical wealth of this ancient city will not leave you unsatisfied; they will envelop you in the arms of history and their beauty will take your breath away.