The Smallest Ethnological Museum in the World is located in a weekend house in the village of Dzepchipste, Tetovsko, under the monastery of the Holy Mother of God and the church of Saint Athanasius. It is consisted of more than 2000 objects and represents a personal (private) collection of ethnological and historical objects that are the property of the architect Simeon Zlatev-Mone. Ethnological collection that makes up The Smallest Ethnological Museum in the World, whose beginnings date from June 17, 1991, was first placed in a ground-floor room with dimensions of 3.0 m x 2.4 m, or a square footage of 7.2 square meters, and today the objects are stored and displayed in two rooms with a total area of 16 square meters.
Since its creation, the collection of The Smallest Ethnological Museum in the World (which was set up by an expert - ethnologist Stojan Kostadinovski) has been visited by more than 40,000 tourists (domestic and foreign) in the village of Jepcishte, and items from the collection were additionally shown at exhibitions outside the the original location. The objects date from several isotriologically confirmed periods that existed on the territory of our country, namely: prehistory, antiquity, the Middle Ages, the Ottoman Empire and the 20th century.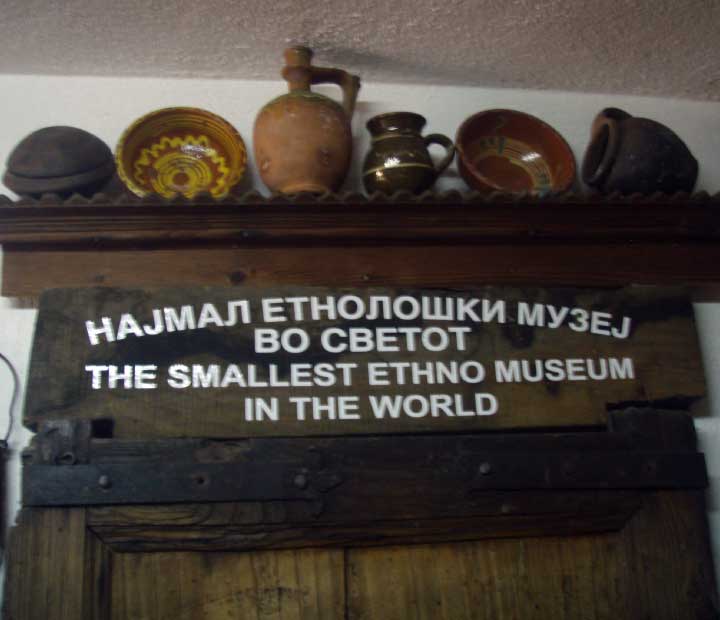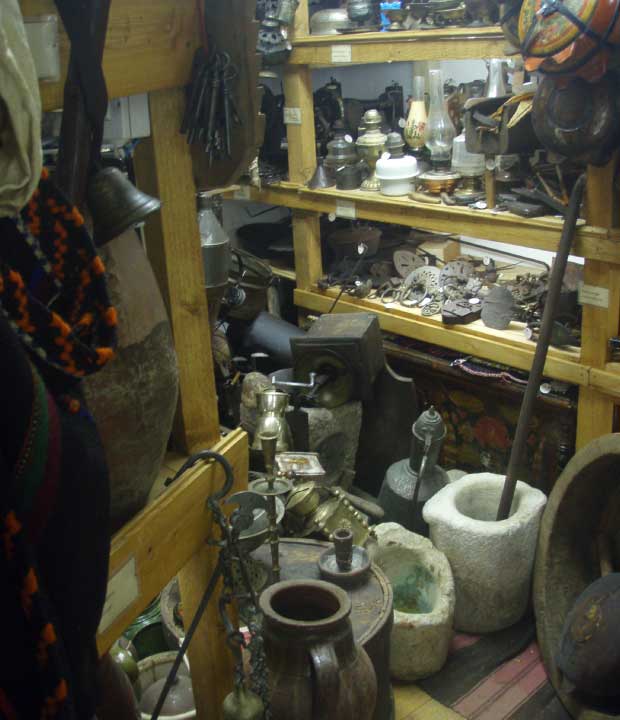 The Smallest Ethnological Museum in the World has a variety of objects. The smallest object in the collection is a rubber voting ball with a diameter of 1 centimeter, and the largest object is a copper sofa with a diameter of 108 centimeters. The heaviest object is a stone grain mill weighing 58 kilograms. The collection includes objects for everyday use in the household and the economy (craftsmanship) such as:
Seals and Stamps, Porcelain and glass, Men Ornaments, Jewelry and ornaments, Archeological Objects, Buckles and medals, Coins and Banknotes, Books and Writing Accessories, Coppersmith crafts, Photographic equipment and Photos, "Mangals", Measuring utensils, Tools, Reliquaries, Maps and different types of flasks, Lamps and Lanterns, Smoking accessories, Horse accessories, Parts of Gates, Mills, Production of textile, Pressing Iron, Sewing Machine and accessories, "Dolaps" for baking coffee and cereals, Objects around the hearth, Accessories, Objects used in stock-breeding, Arms and accessories, Pottery fragments, Wooden Objects, Pottery, Folk Costumes, The ethnological display can be seen with prior contact with the owner Simeon Zlatev – Mone, e-mail: [email protected].