Macedonian cuisine is extremely specific because it combines many different spices. Used in the right amount and in the right place, spices add a unique taste, smell and appearance to dishes and make them distinctive. Each spice has its own magical influence.
Many herbs have always been used to add flavor and healing features to the food. Among the herbs used as spices which grow in Macedonia, the best known and most commonly used is parsley. Basil, sage, rosemary and mint are also commonly added to food. Thyme has also always been a favorite herb, hence its Macedonian name: "majchina dushica" ("mother's soul").
Teas made of rosemary, thyme, basil, sage, yellow wort and chamomile are most famous among Macedonians. Especially characteristic is sideritis. This one-year herb grows in the high mountain regions and is known in the people's medicine as a universal remedy against colds, flu and for overall reinforcement of the immune system.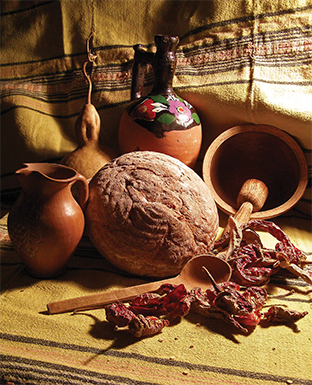 Other specific spices that can be found in Macedonian cuisine are the bukovec, summer savory, sweet clover, dried tomatoes, dried peppers, and in Radovish we have the characteristic poppy salt produced of the Macedonian poppy.
To truly taste spices one must never be bashful and should simply use bread and dip it into the spices. Sometimes, something so simple as dipping the bread in salt or bukovec can unleash many unexpected pleasures and tastes. These are the basic rituals of the Macedonian hospitality and the essence of the Macedonian cuisine.