Trpejca is hospitable and quiet
Trpejca is an old fishing village located in a natural hollow between the rocks on the east coast of Ohrid Lake. This village with a rich history can be reached by the road from Ohrid to the monastery "St. Naum". The village has been welcoming and sending lovers of the morning waves, hospitable and quiet, full of lake magic. The village will especially be loved because of the intimacy it offers, and even more so if you enjoy taking walks, then you can also take a look from the nearby mountain towards the pearly Ohrid water.
Trpejca is more than ten centuries old, a small village with a great spirit, between Ohrid Lake and Galicica, with pearl shores and clear glass transparent water. There are several legends that speak of Trpejca. One of the legends says that the name comes from the word "dinner table", because once the pilgrims on their way to the monastery "St. Naum" stopped in the village and in honor of the many monks living ascetic life set a dinner table (trpeza).
Fish stew in Trpejca
At the very area of the village, you will notice the village idyll and the peaceful life that flows on the hill. Descending down the many steps, in front of you like in a fairy tale, the view of the lake opens. Once you enter the heart of the village, you finally descend to the beach and only then you are assured of the advice that everyone has undoubtedly given you - that Trpejca is an inevitable place to visit. In the village modern buildings with old village houses are mixed. Trpejca has a special spirit, and the inhabitants are especially hospitable. Do not forget to taste some of the specialties such as gjomleze, komat, trout, belvica or fish stew. In the vicinity is the church "H. Bogorodica Zaumska ", the monastery "St. Naum", as well as the Bay of Bones, which is a museum and prehistoric densely populated settlement.
Several houses are located on the shore of the lake. The small village beach is covered with a tiny white stone and stretches on only 200 meters. The water is impeccably transparent and pleasant for bathing. In Trpejca you will feel a special atmosphere and a different climate, and a unique view of the lake in the late afternoon will immediately explain to you why exactly here the locals and their guests celebrate the arrival of the summer every year with the unique Sunset Festival.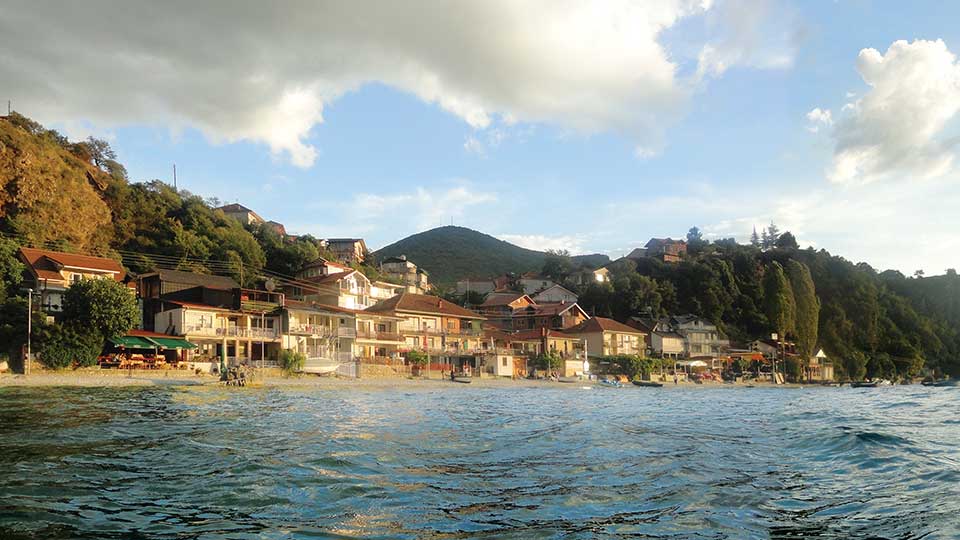 More information about Trpejca can be found on this website.
---