Filigree
The good old craft of making filigree is increasingly more attractive to the people of Ohrid. It is especially the younger people that show interest in this technique known for very long (since 2,500 BC) and applied over the centuries to make jewelry from thin gold or silver wire similar to lace and ornament, i.e. a decorative object.
In the words of Mitko Ukoeski, a jeweler, one of the masters of this technique, the art of filigree consists of bending, twisting and knitting thin metal wires, and joining (soldering) them with each other at the points of contact as well as with the substrate. For granular motifs, small pieces of gold or silver wire are cut and then glued with a blower or nowadays solder, giving them a spherical shape and slight differences between each other. Filigree wire motifs range from geometric figures to flowers and animals. The technique requires great precision and attention to detail, and – due to its uniqueness and complexity – it may be even called the queen of jewelry making techniques.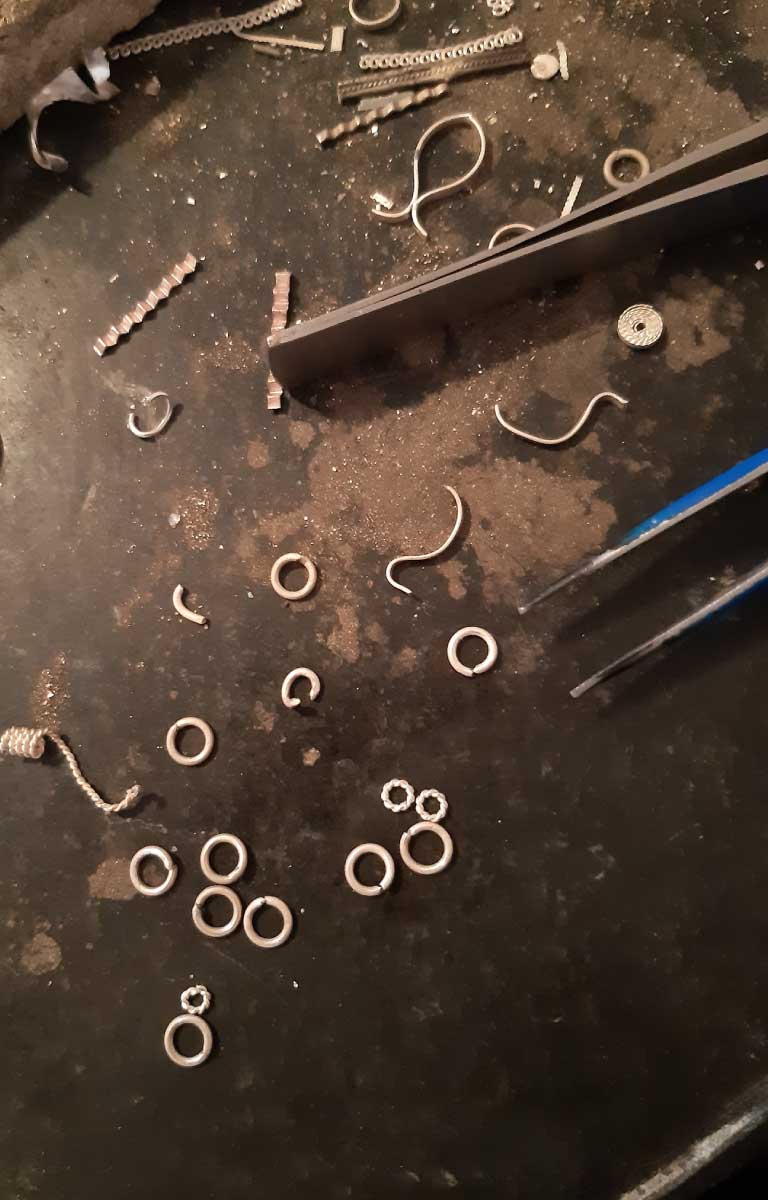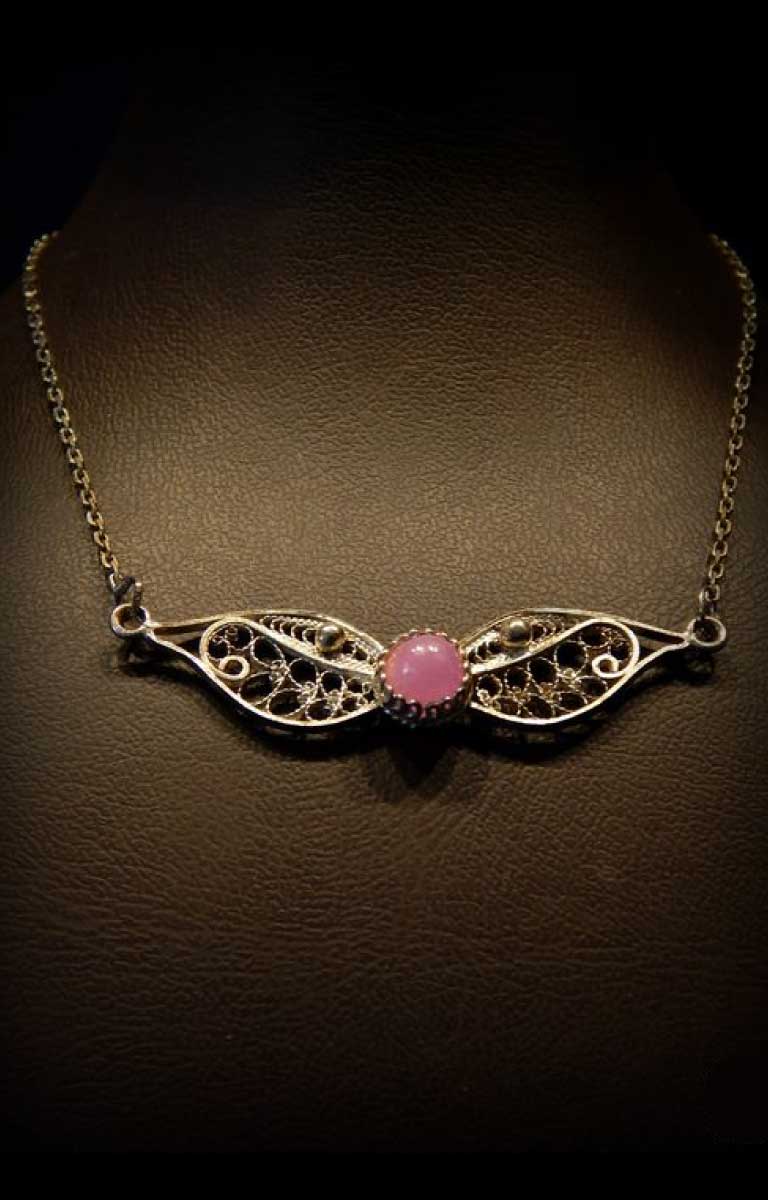 The masters of the craft say that making something with both hands, using fire and metal, is a special feeling, with the end result, i.e. the piece of jewelry being what is fascinating about the process. During the creation, a personal feeling of owning something unique and unique is established, such that inspires one to continue with new creations. There are no patterns and schemes for making motifs; each individual craftsman creates different patterns and jewelry based on their ideas, seeking inspiration everywhere in nature as well as partly in the everyday life enjoyed not only by Ohrid residents, but by numerous tourists from around the world as well.
Ukoeski says that, in addition to skill and creativity, the most important thing is patience, since the making of a piece of jewelry takes days and these creations are special in that they combine jewelry with Macedonian rubies. The very process of making a piece of jewelry actually results in uniqueness, a unique piece that may not be copied. It is exactly the brooches, rings, earrings, and chains, with some of them combined with Macedonian rubies, that are the subject of admiration among tourists today.
Ohrid filigree is worn by numerous world celebrities, actors, singers are associated, including the former First Lady of the American diplomacy Madeleine Albright. Today, the unique works made in accordance with the techniques of the traditional original filigree craft, which is considered an art of the highest degree, are admired not only by foreigners, but also by all those who will glance at this valuable piece of jewelry in the shop windows; thence the great interest among guests, who want to obtain first-hand information and inquire about the process of making of this unique jewelry.
It is an old good craft that has been widely known in this area and that fortunately still exists, as there is huge interest in continuing with the tradition. Ohrid recently received a Museum of Filigree in honor of Vangel Dereban, the legend of Macedonian jewelry making. In his once attractive workshop in the Ohrid Bazaar, there are three rooms, one of which is reserved for an exhibition of jewelry and objects made by filigree masters; then a second one hosting historical overview of the craft of making filigree over time; as well as a third one, as a workshop for studying, getting to know and presenting the skills of making filigree, tools used by old jewelers, and centuries-old jewelry.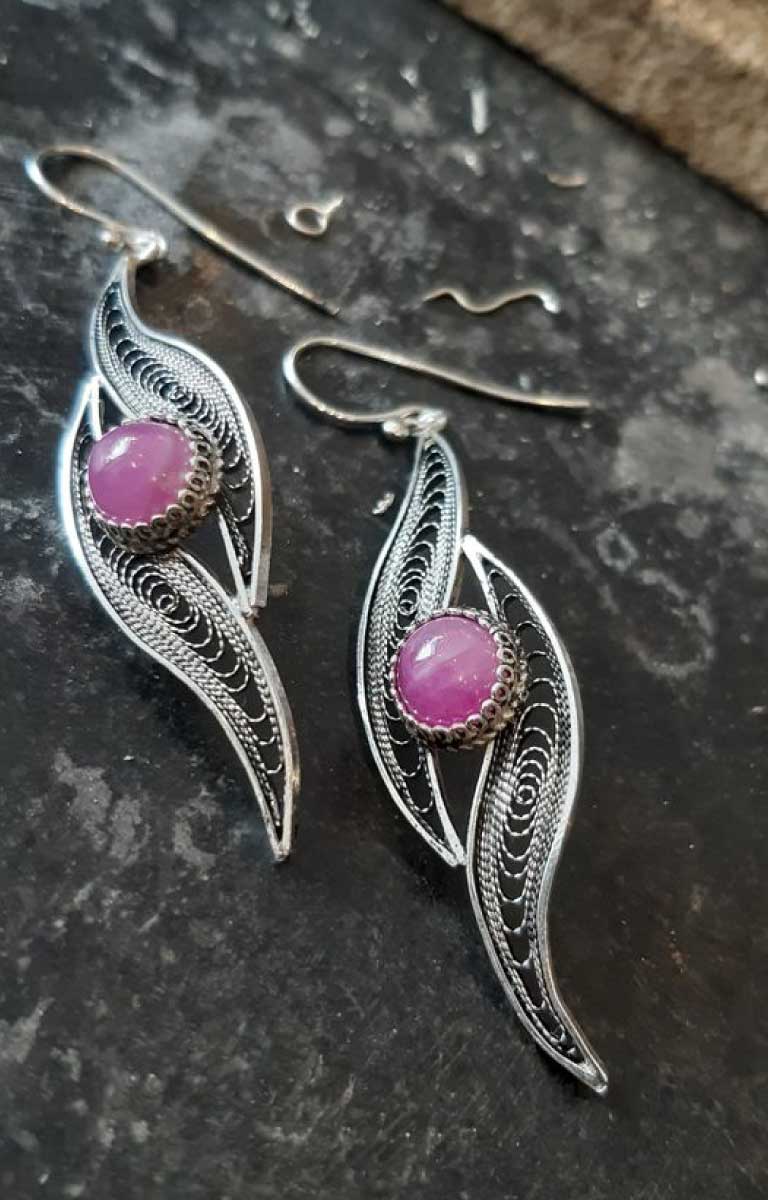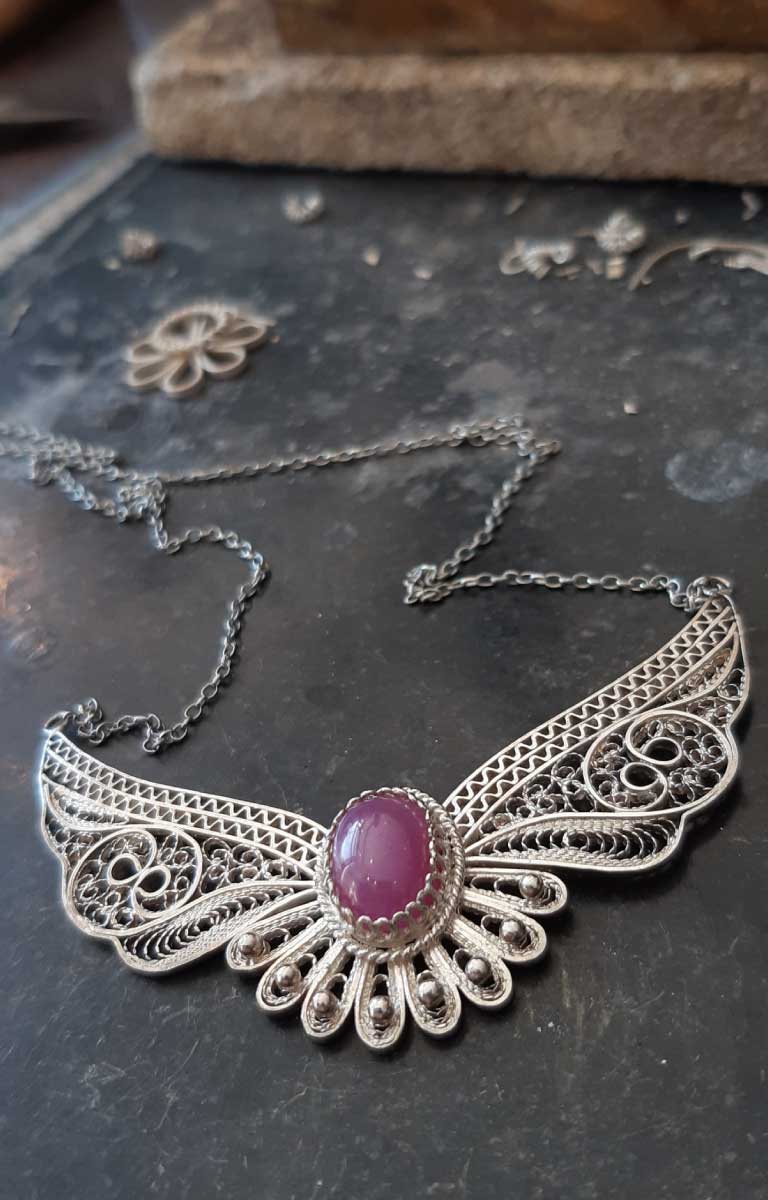 There are six exhibits in total, five of which showing women's and one with men's jewelry, including pieces with semi-precious and precious stones, made in silver and gold, old up to 200 years and preserved to this day. They include everything from head decorations, jewelry worn on apparel, religious and church items to men's filigree items such as chains, chibouks and the like. For the Dereban family, filigree is art, wealth and culture of a people, and - as Dereban's grandchildren say - the restoration of the workshop aims to fulfill the grandfather's will that the craft is not forgotten and to present all the jewelry that has been preserved and constitutes a part of our cultural heritage.
Vangel Dereban, the man with the "golden hands", who lived for 93 years, was the sixth generation of filigree masters of the Dereban family. After his death, several young people from the city continue the ancient tradition. The silver butterfly, known after Milcho Manchevski's TV spot "Buy Macedonian Products", which is kept at the National Museum of Macedonia, was made by his father Aleksandar. The Museum of Filigree enriches the tourist offer of Ohrid, while also promoting the preservation of traditional and cultural values, such as old crafts that make the city recognizable.