Strumica - Gevgelija region
Is located in the South - Eastern part of the Republic of Macedonia. It covers the territory of the valleys of Strumica-Radovish and Gevgelija-Valandovo as well as the area of lake Dojran.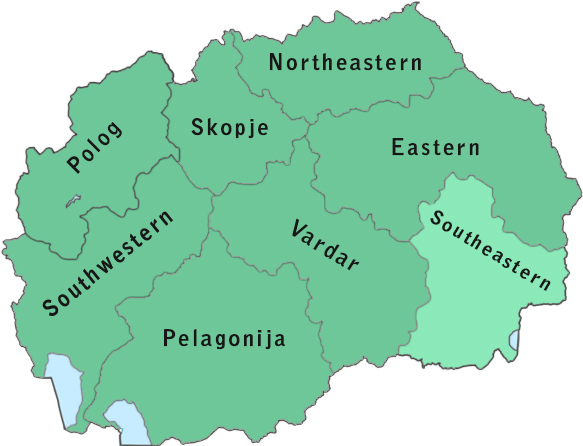 Location
The road and the railway along the Vardar Valley pass through Gevgelija-Valan-dovo Valley and Dojran towards Greece and the road from Shtip to Strumica towards Bulgaria. One branch from Strumica leads towards Berovo, and there are several modernized roads.
Relief
The two valleys are separated by the mountain Plaush and the branches of the mountain Belasica. The region is bordered with the mountains Ograzden and Plachko-vica to the north and the mountain Kozhuf to the west and northwest. Among these mountainous massifs, the following area units are separated with Strumica, Radovish, Valandovo, Gevgelija and Dojran Fields. Demir Kapija Ravine, the saddle Kosturino as well as some mountainous peaks are particular relief units emphasized here.
Climate
This region is featured by Medi-terranean climate influence. Average annual temperature in Gevgelija and Dojran is 14,2°C and in Strumica 13°C . Average pre-cipitation per year is 711 mm in Gevgelija and 600 mm in Strumica. Due to Medi-terranean influence in both valleys, the average number of days with tropical tem-peratures in Gevgelija area is 73 and in Strumica area is 57.
Rivers and lakes
More characteristic hydro graphic objects are the thermal springs in Bansko (Strumica Valley) and Negorci (Gev-gelija Valley). They present quite well arran-ged spa-health and recreational complexes. The fluvial system in this region is consisted of parts of the rivers Vardar, Konjska and Anska in Gevgelija-Valandovo Valley as well as the rivers Strumica and Turiska in Stru-mica-Radovish Valley. This region also inclu-des the natural Lake Dojran as well as the accumulations of the lakes Turija and Paljurci.
Flora and fauna
The diverse geological and pedalogical base as well as the geomorpho-logy of the area have enabled rich diversity of vegetation - ligneous and herbaceous species. Among the particularly pronounced species are the holm oaks as typical Medi-terranean species, but there are beech, oak and pine forests on the mountains Ograz-den, Plachkovica, Belasica and Kozhuf. Fauna is also rich and diverse in this region, there are kinds of big and small game typical of the area, such as: wolves, deer, wild boars, hares and various species of birds and reptiles.
Biggest cities from this region: