Skopje region
Is located in the Northern part of the Republic of Macedonia. It covers Skopje valley and occupies about 2.000 km2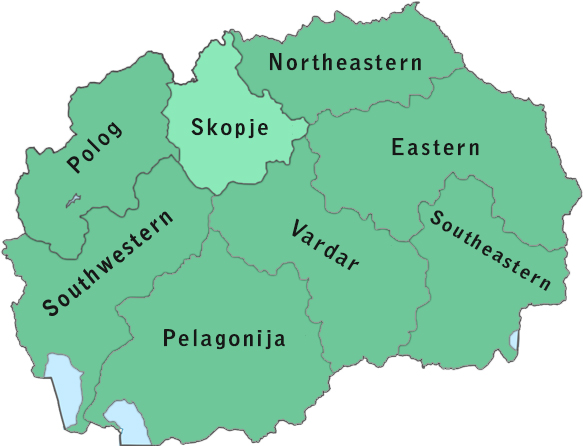 Location
Skopje Valley is surrounded by mountain massif Skopska Crna Gora on the north, Gradishtanska Mountain from the east, massifs Mokra Mountain on the south and parts of Karadzica, Suva Gora and Zeden on the west. This region is touching the magnificent gorge valleys of the River Vardar, such as Dervenska and Taorska Gorge then Shishevska Gorge of the River Treska, Kachanichka Gorge of the River Lepenec and Badarska Gorge of the River Pchinja.
Rivers and Lakes
There are several large rivers flowing through very picturesque gorge valleys. The most significant rivers are Vardar, Lepenec, Pchinja, Kadina River, Markova River and Treska. Particularly important are the lakes Matka and Kozjak in the gorge-canyon valley of the River Treska, the thermo-mineral spa Katlanovo, the mineral springs in Volkovo and other hydrographical objects.
Climate
The Tourist Region of Skopje is characterized by average annual tempera-tures of 12°C and average precipitation of 500 mm. This region is characterized by continental climate and weak penetration of Mediterranean influence, but mountainous climate dominates in the higher areas.
Flora and Fauna
The diverse geological composition, the relief dissection, presence of water and climate influences have created abundant flora with various dendro flora and herbaceous vegetation. Fauna is represented by various big and small game, such as bears, wolves, wild goats, boars, hares, partridges and many other animal kinds attractive for tourists.
Traffic directions
There are several motorways in the Region of Skopje. The first is from Belgrade towards Thessaloniki, the second one is from the Adriatic Sea towards Thessaloniki, the third one is from Kriva Palanka and Kumanovo and the fourth one is from Ohrid and Debar leading to Skopje. In the context of tourism the railway and Skopje Airport Alexander the Great are important. Besides Skopje, which is the capital of the Republic of Macedonia, on this important crossroad there are about 120 settlements, a large number of archaeological sites, a lot of monasteries and churches, cultural-historical monuments and manifestations.
Citiy from this region: