Shar Planina - Polog region
Is located North-west from Skopje. The Highway from Skopje to Ohrid is the traffic connection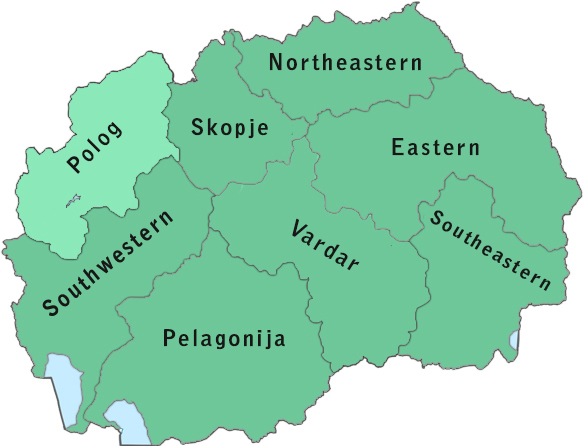 Relief
Shar Planina-Polog region occupies Polog Valley surrounded by mountain massifs: Shar Planina, Zeden, Suva Gora and some parts of Bistra. The valley is a typical plain at 400-500 meters altitude and steep erected picturesque mountains which can reach altitude of 2.700 meters. There is a great geological, relief, climate, flora and anthropogenic diversity.
Rivers and lakes
The most remarkable is the upper course of the river Vardar to Dreven Gorge, the picturesque valley of Pena, Lakavica and numerous mountain-ous rivers. There are about 30 glacial lakes on Shar Mountain. The biggest are Bogovinsko Lake, Black Lake, White Lake, Golem Gjol, Mal Gjol, Krivoshisko Lake, Great Lake, Small Lake and some other lakes. The region abounds with springs and vortexes.
Climate
Shar Planina-Polog region has a continental climate specific temperature characteristics of hot summers and cold winters , the change from winter into summer is very sharp. Average annual temperatures in Polog are: 11°C in Tetovo and about 10°C in Gostivar , on the other hand it is 4,6°C on Popova Shapka on Shar Mountain therefore the climate of the mountain massifs in this region is typically mountainous. The average rainfall is about 800 mm in Polog, and about 1.100 mm on the mountains. Rainfall but mainly snowfall is more intensive during winter period therefore conditions for winter-sports activities are provided.
Flora and Fauna
Relief dissection, relative height differences, geological differences, presence of water and specific climate has provide development of diverse flora including various kinds of dendro flora (beech, oak, birch, chestnut, hornbeam, pine) and plant vegetation where are present some endemic and rare species. There are various species of big and small game in this region, such as: bears, wolves, deer, wild boars, rabbits as well as various birds and reptiles. Traffic routes. Main traffic routes are towards Mavrovo-Debar region and Kosovo. There are numerous local roads.
Cities from this region: