Bregalnica region
Is one of the biggest and it covers mainly the inflow of the river Bregalnica. It stretches from the central of the Ultimate eastern parts of the Republic of Macedonia.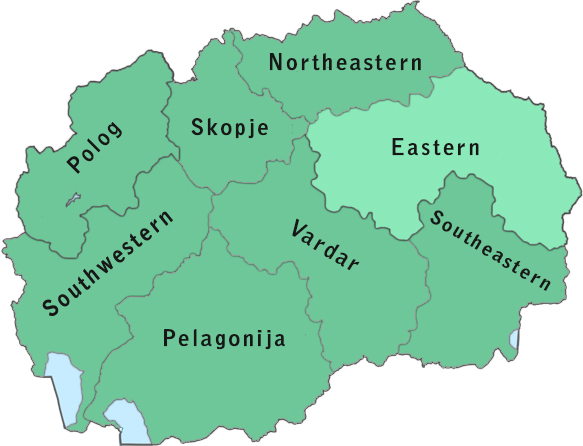 Relief
The relief of this region is consisted of Osogovo Mountains to the north, Plachkovica and Konechka Mountain to the south i.e. southeast and Gradishtanska Mountain to the west and southwest. Among them, there are many valleys and fields such as Ovche Field, Kochani Field, Lakavichko Field, Pijanec and Malesh. In this region Istibanja Gorge and gorges of the rivers Zletovska and Zrnovska are particularly pronounced. In terms of height, the relief expands from 300 to above 2.200 meters. More characteristic mountain peaks are Ruen on Osogovo Mountains, Lisec on Plachkovica and Kadica on the mountain Vlaina.
Climate
Characteristic for Bregalnica Region is the continental climate The temperatures are considerably different at 300 meters altitude in Ovche Field and at about 900 altitude meters in Malesh. The average annual temperature in Ovche Field is 12,81C, and in Berovo is 8,71C. The average precipitation per year is 500 mm in Shtip and 670 mm in Berovo, therefore this region is considered to be one of the driest in the Republic of Macedonia.
Rivers and lakes
The hydrography of this region is consisted of the river Bregalnica and its tributaries Kamenichka, Orizarska, Kochanska, Zletovska Reka (River) and the river Osojnica. There are several thermo- mineral springs, and the springs in the village of Banje near Kochani and Kezhovica in the vicinity of Shtip are arranged as spa facilities. In this region accumulation Kalimanci on Bregalnica, the lake Gratche on the River Kochani and Rataevsko Lake in the vicinity of Berovo are also present.
Flora and fauna
Bregalnica Region has abundance of various vegetative, ligneous and herbaceous species. This is particularly pronounced on the mountain massifs where different dendoflora is developed, but also in the fields of various ligneous and herbaceous species. Also, another feature is rice growing in Kochani Field which leaves special impression on the visitors who see it for the first time. The valleys of the rivers Zletovska and Zrnovska with their characteristics are distinguished as national reservations. There is abundance and variety of wild life, such as wolves, deer, wild goats, boars, hares, various birds and reptiles. Therefore, particularly well-arranged hunting locations are present on Ponikva, Osogovo Mountains.
Traffic connection
The main traffic artery in this region is the road Veles-Shtip-Kochani-Delchevo, furthermore the route Kumanovo-Sveti Nikole-Shtip-Strumica, but also important are the traffic arteries towards Probishtip and Kratovo, towards Berovo and from there towards Delchevo and Strumica. There is a railway connection from Veles towards Kochani.
Biggest cities from this region: