Day 1 / Arrival day
We welcome the guests at the Skopje airport, and they are transferred to hotel in Skopje (cca 30mins transfer). They will have a chance to get some rest. We have short meeting with the tour guide. They will be given short introduction with highlights of the itinerary. After the meeting, we head to a restaurant with traditional Macedonian setting for a welcome dinner, where our guests will taste selection of macedonian dishes, wines and spirits. Return to hotel. Overnight.
Hotel: Skopje
Meals: D
Day 2 / Hiking in Shar Planina – Belovishte waterfall
After breakfast, the group checks out from the hotel in Skopje (around 07:30) to the village of Belovishte in the Shar Planina region. Arrival at cca 08:30. Hiking to the Belovishte waterfall, which is cca 1,300m above sea level (best time to visit the waterfall are the months of May and June because of the high water leverls). The guests have traditional lunch in the village of Belovishte (14:00-15:00), and around 16:30 we head for Popova Shapka resort (cca 1 hour drive). Arrival at Popova Shapka. Accomodation in hotel. Dinner and overnight.
Hotel: Popova Shapka
Meals: B / L / D
Day 3 / Hiking in Shar Planina - Mt.Titov Vrv (2,747m)
Check-out from hotel and departure for hiking from Popova Shapka around 06:00 am. We take the Vakafska trail. The trail length is 20km in total. The trail is relatively easy until before the peak, where it gets more steep. Total hiking duration: 9-10 hours (with breaks included). We return to Popova Shapka at around 16:00, and head for the Mavrovo National Park (1:30 hours drive). Check-in at hotel in Mavrovo at 18:30-19:00. Dinner and overnight.
Hotel: Mavrovo
Meals: B / L / D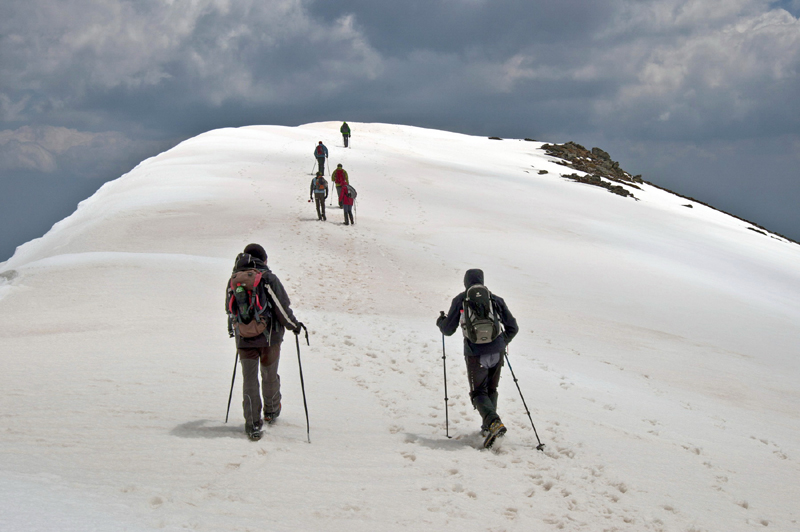 Day 4 / Mavrovo National Park – Mt. Medenica (2,163m)
Breakfast and checkout. Departure to the village of Galicnik (30 min drive). We take the hiking trail from here, and it includes 3-3:30 hours of ascent, and 2:30 hours of descent, total duration: 6 hours (with breaks included). Lunch is organized around 15:00, and guests will taste the amazing local white and yellow cheese. Around 16:30 we will descend to the village of Jance (cca 1:30 hours). The driver will pick us up from there and take us back to our hotel in Mavrovo (40-50 min drive). Dinner and overnight.
Hotel: Mavrovo
Meals: B / L / D
Day 5 / Mavrovo National Park - Mt.Golem Krchin (2,341m)
After breakfast and check-out, we head for the village of Bitushe (40km, 50 min drive), and from there we hike for 8 hours to Mr.Krcin. The path goes first by the Bitushka River, and some hundreds meters later there is not so well marked path on south-west. Path goes under big rocks structure. You will find few small creeks on your way. When you climb to approx. 1900m you will see Golem Krchin. From there we can choose either the harder steep trail from the north side of the summit, or we can pass a small valley on the left and climb the summit from the south side (easier option).
View from Mt. Krchin is magnificent. If it is a good day you can see many peeks in Macedonia (Korab, whole Shar Planina, Solunska Glava, Karadzica, Pelister, Kajmakchalan, even Olympus in Greece).
After this hike we head for Ohrid in the afternoon (16:00-17:00, cca 2 hours drive). If there's time, we stop by for short visit of the famous monastery of St.Jovan Bigorski (famous for the relics from many christian saints, as well as the largest and most beautiful wooden carved iconostasis). Arrival in Ohrid and checkin at hotel. Dinner and overnight.
Day 6 / Ohrid – UNESCO Heritage site of Macedonia
Today we have city tour of the most famous amenities of Ohrid, Macedonia's prime tourist resort. Those include: The Amphitheater, Church of St.Sofia, Tsar Samuel's Fortress, Church of St.Jovan Kaneo. The guests have lunch in a restaurant in the old town. Free afternoon for enjoyng the old city, taking a swim etc. Overnight.
Hotel: Ohrid
Meals: B / L / D
Day 7 / Galicica National Park – Mt.Magaro (2,255m)
Departure to the mountain of Galicica, which stands between the Ohrid and the Prespa lake. Hiking tour to Mt.Magaro. Total duration of this round hiking tour: 5-6 hours. Return to hotel. Overnight.
Hotel: Ohrid
Meals: B / L / D
Day 8 / Departure
Check-out and departure from the hotel in Ohrid. Transfer to the Skopje Airport (cca 3 hours). End of program.
Office phone/fax:
Phone: +38975243944
E-mail:
[email protected]