Trpejca is an old fishing village situated in a natural void between the rocks on the eastern shore of the stunning Lake Ohrid. This historical village is located on the road from Ohrid to the monastery of St. Naum.
You will especially love the intimacy that the village offers, in particular if you're a hiking enthusiast.  You can appreciate the view from the surrounding mountains towards the pearly waters of Ohrid Lake.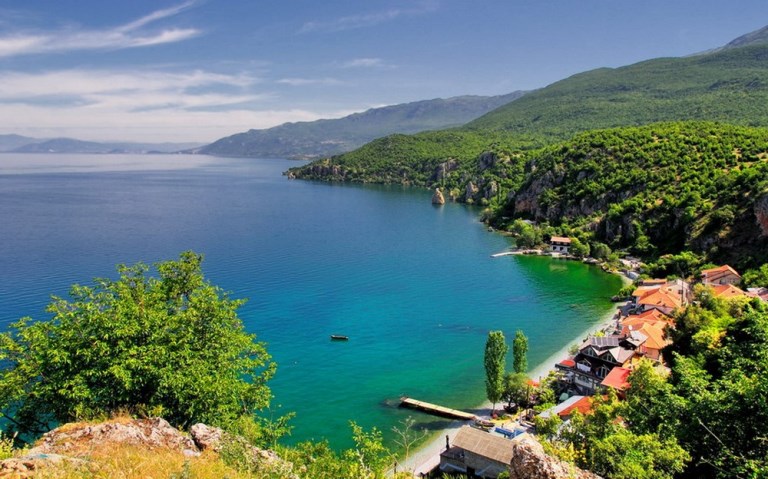 Nearby village, you will notice the rural and peaceful life. The view of the lake opens before you after descending the innumerable stairs, almost as in a fairytale. As you finally descend to the beach – you come to realize that the stories were all true; Trpejca is an incredible place to visit.
The village is a mix of modern homes and traditional dwellings. Trpejca has a special spirit, and people are very hospitable. Do not forget to taste some of the specialties such as gjomleze, komat, trout, belvica, or fish stew. The Church of the Holy Mother of God of Zaum, the monastery of St. Naum, and the Bay of Bones, which is a museum and a prehistoric settlement, are very near Trpejca.
Several houses are located on the shore of the lake. The small village beach is sprinkled with small white stones and it's only 200 feet long. The water is perfectly clear and pleasant for swimming. There you will feel a certain special atmosphere and a different type of climate. The amazing view of the lake in the late afternoon will immediately clarify why the locals and their guests celebrate the arrival of summer every year with the unique Festival of the Sunset.