Lake Matka, which extends 7km down the river Treska, is marvelous with its metallic gray-green color. The steep gray sedimentary rock , favorite route and everlasting challenge for climbers - adventurers, are rising high above the lake, and its coasts, sharply cuts the mysterious water of the lake.
Canyon Matka is one of the most recognizable and magnificent areas in Macedonia. It is located just 15 kilometers from the capital and is a popular place for weekend recreation.
This natural canyon of the Treska River is characterized by specific shapes, different reliefs, steep slopes and vertical rocky massifs. Canyon Matka has always attracted a large number of nature lovers and researchers, because it is a natural reserve of rare animal species (such as white-headed eagles and 15 species of butterflies that live only on this site) and endemic species of plants and herbs.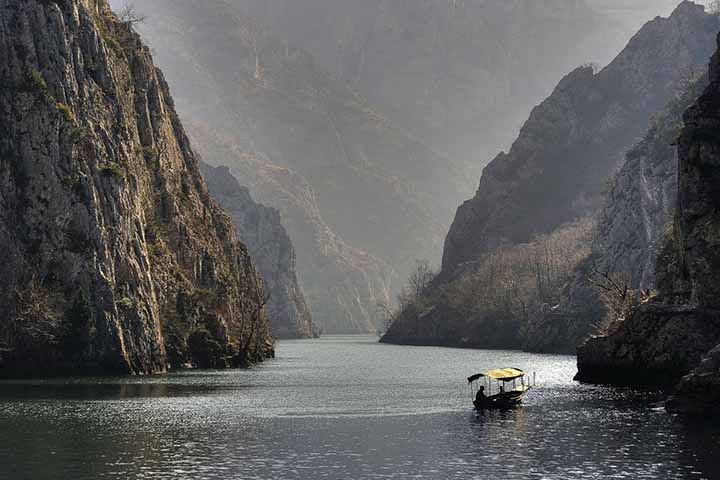 The Speleological Park is one of the most fascinating in Europe. Dozens of caves are located in this area in length from 20 to 176 meters. The most remarkable is the underground cave Vrelo that is rich in stalactites, where we can find two lakes. A huge cone-shaped stalagmite dominates, after accruing for 2700 years. At 212 meters deep, Vrelo Cave is the deepest underwater cave in the Balkans, and second deepest in Europe. The depth is still not fully discovered and remains subject to examination.
All fans of extreme sports have an opportunity to enjoy climbing and alpinism or kayaking in the wild waters. Right here on the path of Treska River, the World Cup in kayak on wild water took place in 1975. Everybody, without exception, can enjoy a tour on a small rowboat on the oldest artificial lake in Macedonia, admiring the four churches and monasteries.
In Canyon Matka a lot of paths intertwine and are connected, so it's easy to reach your desired destination. At Matka, you can only get lost in dreams, fantasies and breath.