Toujours étroitement liée à leur terre natale, le peuple macédonien ont surtout vécu des siècles de tradition transmettre d'une génération à l'autre, et créant ainsi un matériau exceptionnellement rare et la culture spirituelle qui porte certaines caractéristiques patriarcales. Vrai folklore ne peut pas être acheté ou vendu, mais doit être appris par le labeur, la sueur, les larmes, et, parfois, même le sang. Contrairement à certains qui abusent de son nom pour des intérêts égoïstes, il est pas un simple divertissement pour amuser les foules ou de se plier à un auditoire.
Plutôt, il devrait, comme tout art véritable, stimuler, éduquer, irriter, et, espérons-le, conduit tous ceux qui sont touchés par elle à un nouveau niveau de compréhension. Dans le même temps, de par sa nature folklore est également accessible, pas seulement à une élite artistique, mais à tous ceux qui la poursuivent avec passion. Il faudra toute votre concentration, la créativité et l'effort passionné pour capturer son essence, à ajouter à sa richesse, et de le transmettre non dilué à la prochaine génération afin qu'ils, les Macédoniens et les autres peuvent encore connaître sa beauté sublime et la gloire.
Costumes folkloriques
Une attention particulière macédonienne avait payé à la conception et la décoration de leurs vêtements, de sorte que les costumes nationaux et les bijoux sont les plus expressives et les plus nombreux exemples de la créativité traditionnelle des Macédoniens. Les costumes nationaux en Macédoine (créés sur une longue période de temps), conserve les traces d'anciennes influences culturelles, et dans leur façon de développement intègrent les éléments de la vieille balkanique, slave et la culture orientale. Surtout, le produit de la fabrication de textiles domestiques, les costumes nationaux macédoniens sont caractérisées par la richesse et de l'ornementation. Macédoine occidentale, en particulier divisé en unités régionales plus petites avec des caractéristiques différentes ethniques est une véritable mosaïque de divers beaux costumes nationaux, où les costumes des femmes sont d'un intérêt particulier.
Broderie macédonienne décoratif, caractéristique dans les formes, techniquement complexes et de couleurs pittoresques donner une expression particulière et de distinction pour les costumes nationaux. Les robes des femmes sont particulièrement décoratif, et sont le porteur principal de ce genre de création artistique traditionnelle. La broderie est non seulement une expression artistique et l'élément essentiel, mais le plus caractéristique des costumes de différentes régions. Tout cela est un patrimoine historique qui rend la Macédoine fiers.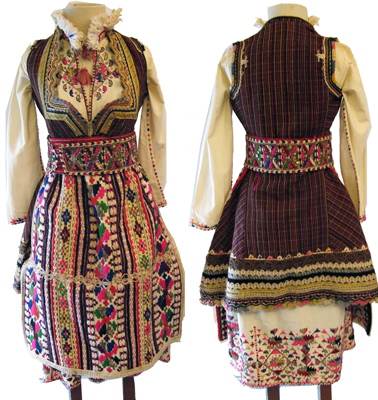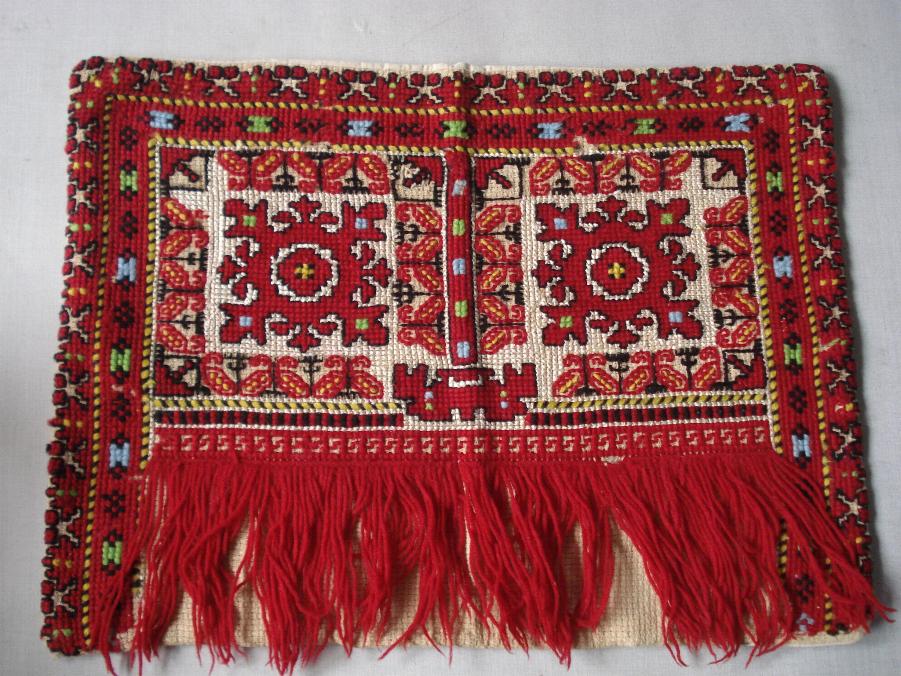 Most of Macedonia's colorful folklore consists of folktales and aphorisms (witty sayings). The following are typical aphorisms: "Falsehoods have short legs" (lies are soon found out); and "Begin a task, but always have its conclusion in mind" (finish what you start.) (Link do natinal quotes).
Macedonian folklore music
The ethnic Macedonian traditional music, which can be rural or urban (starogradska muzika), includes: lyric songs, epic songs, labour songs, ritual songs, humorous songs, circle dance ("oro"), the old urban style called Čalgija (not to be confused with chalga) etc.
Popular traditional songs are: Kaleš bre Angjo, Slušam kaj šumat šumite, Biljana platno beleše, Dafino vino crveno, Narode Makedonski, Zemjo Makedonska and many others. Often referenced oro dances are Teškoto from the village of Galičnik, Kalajdžiskoto, Komitskoto (The Dance of the freedom fighters) and others. An internationally acclaimed professional folklore association is the award winning "Tanec".
Like its people Macedonia's musical instruments have mixed origins. Many were brought to this land with the various invaders passing through over the centuries, while others are home grown. Playing traditional instruments is seeing a small revival in fusion music and in the revival of ethnic festivities.